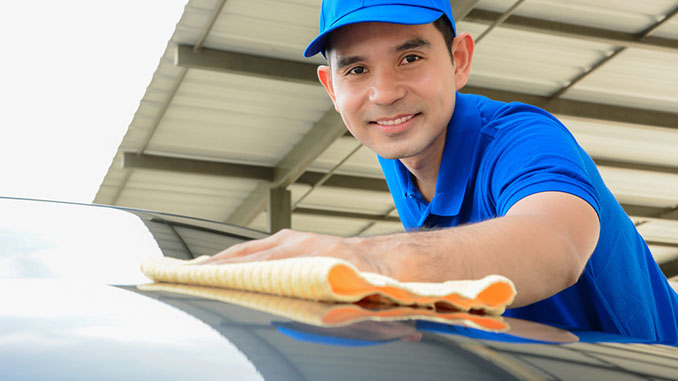 Auto detailing is like car washing on steroids and although washing the car is where it all begins, detailing includes waxing, polishing, clay bar treatments, vacuuming, treating fabrics, and much more.  This is a great home-based business for those with little startup capital and who don't mind the physical requirements of this type of home business.  Business characteristics include…
Marketing:  This is a relatively easy business to market and much is done through word of mouth and canvassing.  You will need handouts, business cards, and a website.
Repeat Business:  with good pricing, you will find customers tend to use your services repeatedly
Product Knowledge:  Staying on top of the latest advances in products is important
Fast Growing Industry:  This is a rapidly growing industry which generates over $10 billion in sales annually
Startup and Training
While almost everyone things they know how to clean a car, as an auto detailer, your services must set you apart from the local car wash and to do so, you will need training.  Fortunately, you can get all the training required with classes held by the International Detailing Association.  The IDA is the leading support organization for those in the industry and even provides members with the latest on products, techniques, and even has an excellent certification program.
Though marketing costs will be minimal when starting this business, acquiring the right tools and state-of-the art products will not.  You will need…
a Work Area
Electric Buffers and Polishers
Polishes, Waxes, and all types of Cleaning Supplies
Liability Insurance
Reliable transportation (such as an SUV, truck or van)
Cell phone
Website
Growing Your Auto Detailing Business
Auto detailing is a "luxury" service and a single poor job leaves a lasting impression.  In other words, you must always provide quality workmanship.  Staying up to date on products and the latest industry trends is essential.
Much of your detailing will be on site at your customer's place of business and there is no better way to advertise as others in the area will see the results of your work.  Being active on social media is important but canvassing (walking door to door) and simply handing out a colorful brochure and business card is a marketing method of choice.
As with most home-based careers, you will likely take almost any business when you first open your doors but as mentioned, this is a luxury business and with typical prices and fees of $75 to $250 per car, you will ultimately focus your efforts on upscale clients.
Income Potential as a Professional Auto Detailer
Although it takes time to build your clientele, the business of professional auto detailer can be very profitable with successful operators earning $75,000 – $100,000 or even more each year.  Many detailers eventually take on assistants as the business grows.