What Is Affiliate Marketing?
Affiliate marketing is the process by which a person or company called an "affiliate" earns a commission for marketing another person's or company's products. Affiliates are "commissioned" independent sales people that simply search for products they like or enjoy, then promote that product and for their promotion earn a piece of the profit from each sale they make.  Sales made by affiliates are tracked via something called "affiliate links" from one website to another.
How Does Affiliate Marketing Work?
Setting up affiliate marketing links on your website almost could not be easier.  When you signup and are accepted for an affiliate program (relationship) with a merchant, that merchant will provide you with a unique link you will add to a product or service image on your website.  With your unique, special link, the merchant can track the source of the sale and identify which affiliate website was responsible for it.  When someone clicks your link, a small file called a "cookie" gets stored on their desktop, laptop, or smart phone.  An affiliate cookie does two things:
It helps the merchant attribute the sale back to the right person
It typically creates an expiration date for the cookie, so you get paid even if the buyer does not purchase immediately but comes back and purchases at a later date.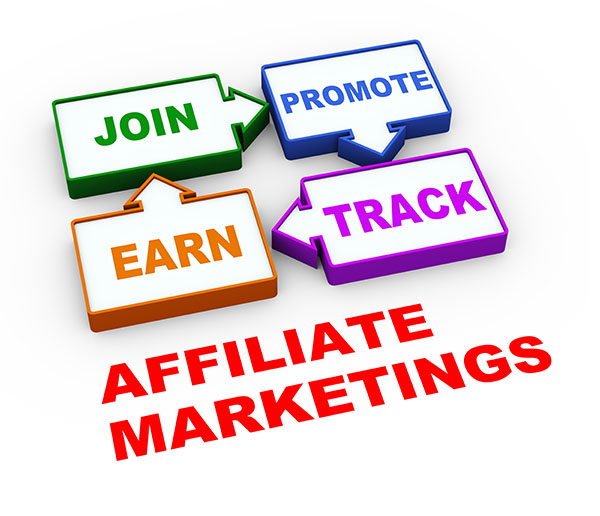 Here's An Example of How This Works
You have a maid service and on your maid service website, you periodically post cleaning tips for difficult to clean items.  An elderly woman visitor to your site, who used a search engine to look up articles on how to remove pet stains from furniture fabric, was directed by Google to an article you wrote and posted to your website on that very topic.   Included in your article was an image of a hand held portable cleaning appliance for pet stains and a recommendation for that product.  The image, however, was actually a link to Amazon where your visitor could purchase the product and when they clicked your affiliate link it took them right to the product on Amazon.
But your visitor realizes she cannot buy the product right now due to some business that needs immediate attention.  So your visitor leaves your site with the intention of visiting Amazon later in the evening to purchase the cleaning appliance.
That evening, your website visitor goes back to Amazon.com to purchase your recommended product and does so.  Since she is already shopping on Amazon, she decides  to purchase some additional needed items as well which end up totaling over $500.
Here's how your affiliate "cookie worked.  Because your visitor had clicked on your affiliate link earlier, your identifying cookie was stored on her computer.  Amazon has a 24-hour cookie duration which means you get compensated for anything your visitor purchases while the cookie is in effect.  In other words, you don't just earn a commission on the hand held cleaning appliance, you also earn a commission on everything purchased that evening even though your website article didn't promote the other items.
How to Get Started With Affiliate Marketing
Affiliate Marketing is a great way to develop multiple income streams and is also a great way to add additional income streams to an already established business and this is especially true of home-based businesses.  To get started earning commissions form affiliate programs:
Decide on a Platform:  Most affiliate marketers with either use YouTube videos to market affiliate products or will market affiliate products using blog articles.  Additionally, there are some enterprising mobile creatives that will set up WordPress online stores dedicated 100% to affiliate marketing.
Choose a Niche: For those engaged in a home-business, that's easy.  Your niche is your business and products related to it.  If you are going to create a store just sell products, make certain your store focuses on a particular category of product.  In other words don't make a site that sells "clothing".  Make a site that sells "island-style vacation clothing" and travel items.
Join Affiliate Programs:  There are tens of thousands of affiliate programs available to you.  Some are high payout and some are low payout.  To some extent, your opportunities will depend on your niche.   Amazon, for example, is a low payout affiliate but you can still earn up to 10% commission on many products.  One good place to look for high-payout affiliate programs is DataMax.
Create Good Content:  The key to success with affiliate marketing is, of course, attracting visitors to your site and displaying great content does just that.  Bloggers that develop a knack for identifying great subject matter and subsequently posting an article about it can earn thousands every month through affiliate related sales.  Simply put, you need to drive visitors to your site.  Having good content will help enormously.
Drive Visitors to Your Website:  Home-Based entrepreneurs that utilize affiliate marketing have an edge here since they are already marketing their services on their site to earn sales.  They are using social media, networking, and direct marketing.  The commissions earned from affiliate marketing are an added bonus.  Regardless of how you do it, success as an affiliate marketer is all about "website traffic".
Finding Affiliate Programs to Join
Finding affiliate programs to join after your website is up and operational is relatively easy.  We maintain a list of recommended high-payout affiliate programs at DataMax based on your particular enterprise.  For example for Cash Flow brokers, we will reference affiliate programs that would be of interest to those already on your site seeking to sell a mortgage note or get early cash for an inheritance advance.  For example, affiliate links to finance related programs such as credit card and insurance programs.
To get started and learn more, however, you can simply use a search engine such as DuckDuckGo.com to search for programs.  Below is a snippet of results from doing a search for "high payout affiliate programs.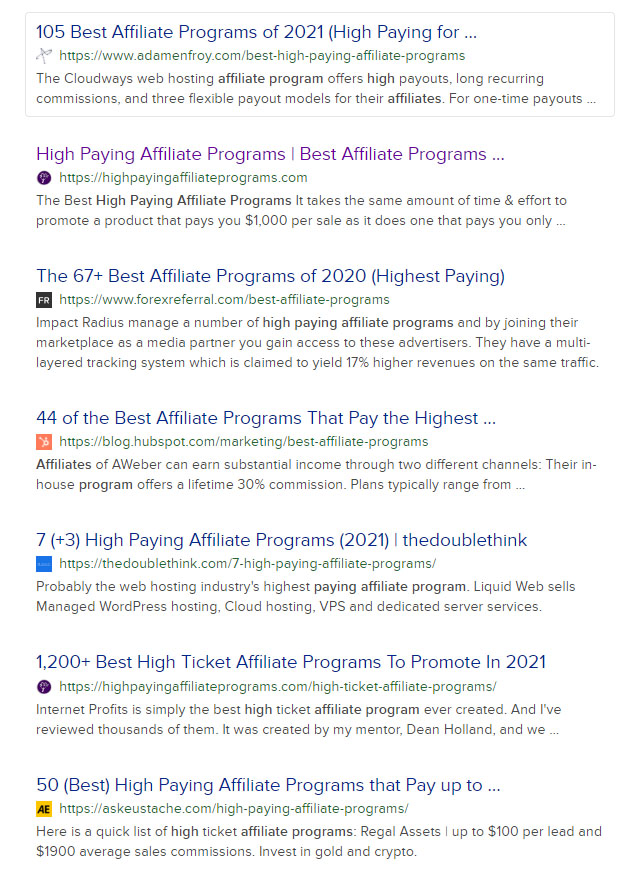 Don't Ignore Affiliate Opportunities
No matter what type of home business you are starting, it is almost essential in today's marketplace that you have a business blog to attract customers and since you are going through the work of blogging, making additional money from you blog just makes all the sense in the world.  And do not be surprised if you find yourself creating more websites and blogs just to take advantage of all the affiliate marketing opportunities you discover.