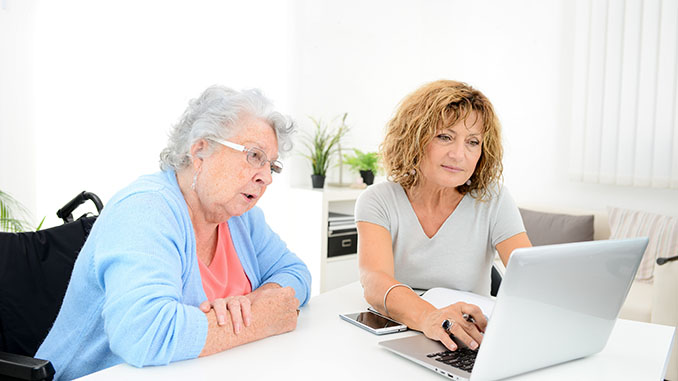 Start a Computer Tutoring Business
If you are one of those people who have a natural fondness and compatibility with all things computer, a home-based computer tutoring business might be just the right niche for you.  And although teaching others can often be challenging, this is a business that offers so many niches and specialty applications that it almost certain you can find one that with match up with you.  Just a few of the niches include:
SENIORS:  Teaching seniors how to use Facebook and other social media to stay in touch with distant children and relatives.
BUSINESS OWNERS:  Become a Quickbooks ProAdvisor or expert in Microsoft Word and instruct new business owners on the operational side of thes powerful pieces of software.
CREATIVE CLOUD:  Get certified as an instructor in Photoshop, InDesign, Illustrator, or dozens of other Adobe products.
E-BAY SELLING: Instruct those interested in selling on E-Bay exactly how to do it.
BLOGGING:  Show those interested in starting a blog how to install and navigate WordPress and even monetize their blog
CHILDREN:  Teach children the basics of computer navigation using Microsoft Windows
Basic and Advanced Instruction
Computer tutoring is one of those businesses that grow as you grow.  Start with courses on computer basics such as file management, email, social media etc.  Many seniors are desperate for such instruction and have difficulty learning online.  Then, begin offering instruction in other areas as you develop your skills.  Focus on one specific area until you reach expert status and then offer it to your services.  The more you learn about highly technical and advanced areas such as Adobe's Photoshop and other Creative Cloud programs, the more valuable you become as an instructor.
Incredible Side Benefits
Computer tutoring is one of those businesses that "has legs" since you are dramatically increasing your personal worth as you learn…learn…learn and become expert in various programs.  Consider the story of…
 "Jean"…who became proficient in Photoshop and began designing menus for all the local restaurants.
"Bill"…who not only taught E-Bay selling, but also opened his own E-Bay store
"Gina"…who became a Quickbooks Pro Advisor so she could teach others and now has her own bookkeeping business.
This is just one of those businesses where you can't go wrong as you learn more and more about various computer applications and can then charge a reasonable hourly rate to impart that knowledge to others.
Computer Tutor Startup Costs
Startup costs for operating as a computer tutor are relatively modest but you will likely need both a desktop and laptop computer as well as dependable transportation.  Additionally, as you expand your services, you will incur costs associated with subscriptions to cloud-based software programs such as Adobe Creative Cloud and also costs associated with your own training such as books and live or online classes.  Some "certification" programs can be costly but the benefits of obtaining such certifications are too numerous to mention.
Get Started…Then Become a Specialist
Start this business with just the basics.  For example, offer a "FREE" training session for seniors interested in learning Facebook.  This is a word-of-mouth business and you will soon find your calendar full of those lined up for some FREE training.  Once clients and if you are personable, you will find these free sessions lead to a never ending source of business and you market new and exciting trainings.  When giving your free initial Facebook session, show your student the photo editing power of Photoshop or a similar editor.  As you learn…learn…learn yourself, you will find the opportunities in this unique vocation are realistically endless.